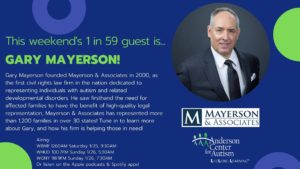 Gary's appearance with Eliza Bozenski, host of the "1 in 59" Radio Show, will be airing on local radio stations in the Hudson Valley this weekend! Saturday, January 25th, 9:30 AM on Real Country – WBNR 1260AM/WLNA 1420AM Sunday, January 26th, 5:30 AM on WHUD 100.7FM and Sunday, January 26th, 7:30 AM on Fox Oldies – WGNY 98.9FM You can also listen to the interview by clicking the link below! https://lnkd.in/dffZWJ4
"1 in 59" Radio Show, is a unique weekly radio broadcast covering the world of autism. Eliza Bozenski also is the Chief Development Officer of The Anderson Center for Autism, one of New York State's premier autism treatment centers.
Named for the prevalence of autism spectrum disorder (ASD) amongst children in the United States, the 1 in 59 radio show addresses hot topics affecting the autism community.
Gary and Eliza discussed the origin and founding of Mayerson & Associates, the significant changes Gary has seen over the years, some of the groundbreaking cases Gary has been involved with, and Gary's soon to be published second book, "Autism's Declaration of Independence."