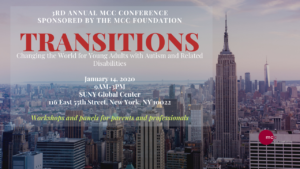 Gary Mayerson will be speaking at the Third Annual MCC Conference on January 14th at the SUNY Global Center. The conference will focus on Transitions: Changing the World for Young Adults with Autism and Related Disabilities.
Gary's presentation "Preparing For The Transition To Adulthood–Why Teaching To Generalization Is The Missing Link To Promoting Greater Levels of Independence And Self-Sufficiency" discusses how important the process of generalization is to ensure that a child's learning is real and sustainable. This presentation is, in part, a preview of one of the chapters from his soon to be published second book, "Autism's Declaration of Independence."
Click on the link below to register.